Kitsch'n on Roscoe
Where Kitsch Meets cool in Chicago
Located in Chicago's charming Roscoe Village Neighborhood, Kitsch'n has been serving up new takes on breakfast, lunch, & brunch favorites daily since 1998!
Photos by ALYK KENLAN
Since 1998, Kitsch'n On Roscoe offers a relaxed & casual neighborhood-style space offering an award-winning comfort food & brunch menu, plus a full bar with a hip 70's "funk-ploitation" theme & too many tongue-in-cheek cultural decor references to mention.
This is where it all started... come in for our legendary weekend "Hangover Brunch" and grab a spot by in our sidewalk cafe or beer garden, sit down with friends at the front counter, or at one of our vintage Formica tables. Our staff will help steer you in to the "cult status" items on the menu that are sure to please. Order yourself a funky drink from the cocktail list, sit back and look around... you'll be sure to notice something that will take your thoughts to "back in the day".
Phone
(773) 248-7372
Location
2005 W. Roscoe
Chicago, IL 60618

HOURS
8:30AM-3PM 7 Days
Closed: Thanksgiving and Christmas Day
New Year's Day Annual Hangover Brunch 10AM-3PM
Nighttime Parties Anytime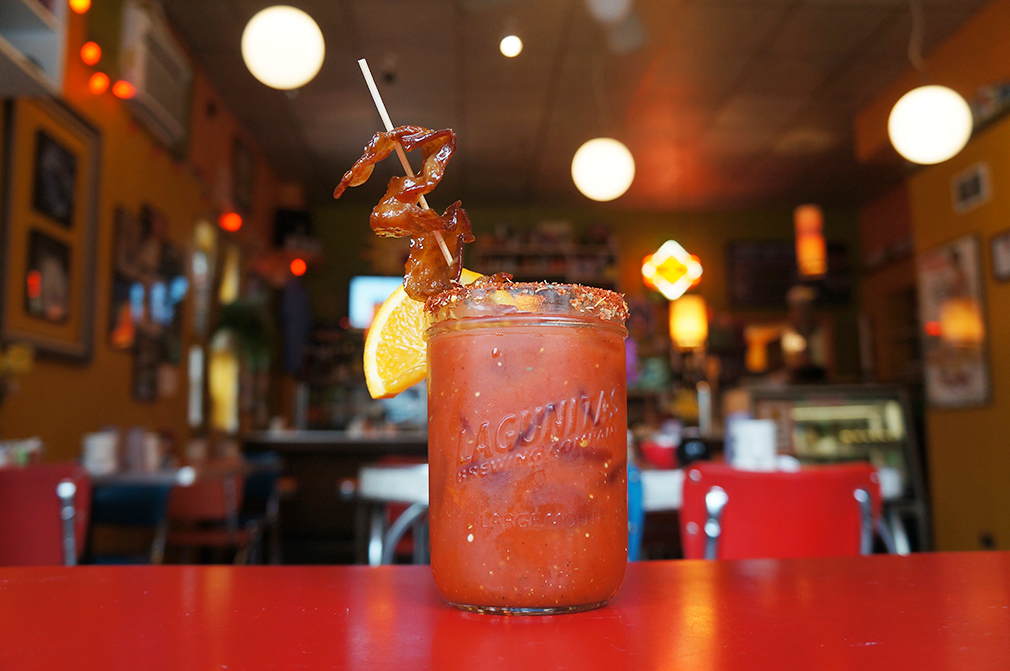 now accepting RESERVATIONs!
Call (773) 248-7372 daily between 8am and 3pm. Groups welcome. Walk-ins always encouraged.
Reservations or calling ahead recommended for parties of 5 or more.
PRIVATE Parties
Kitsch'n offers a dynamic indoor-outdoor event space with a 1970's retro-chic vibe loaded with atmosphere and amenities for groups of 20 to 70 guests for day-time or night-time events!
An event at Kitsch'n also includes satellite music or your own iPod playlist, our house candles, a DVD slide-show or video on TVs, and optional extras such as a photo booth, DJ, live entertainment, a florist, custom cakes, artisan cheeses, premium wines, and liquors.
We know Kitsch'n can help to create a fun, unique, and memorable event for you and your guests. We are proud of offering value price points while providing quality food and drink, friendly sincere service, and an eclectic event space – and we'd love the opportunity to create a custom proposal based on exactly what you have in mind. Thank you!
Contact Jon Young via email at: jon.dineanddrink@gmail.com (please include the date, time, occasion, and expected guest count), or call 773-895-5790
25 Great Chicago Breakfast Restaurants By Neighborhood - Eater Chicago
"Best Brunch in Chicago - A Hood by Hood Guide" - Thrillist Chicago
$40 a Day with Rachael Ray, Chicago - The Food Network (Our Favorite!)
"Chicago's Best - Breakfast" - WGN/CLTV
The Food Network - Top 5, Delicious Duos
Best Of, Top Ten Fun Food Factories - The Travel Channel
Winner - Best of Chicago "Best Morning After Brunch Spot" - Citysearch.com
Editorial Winner – Best Brunch, Best of Citysearch – Citysearch.com
Winner - Best of Chicago, 1st Place: Comfort Food - Citysearch.com
Neighborhood Dining in Chicago – Bon Appetit Magazine
"The Ultimate Comfort Food Destination", Check, Please! - PBS WTTW11 TV
Winner Best Brunch, Chicago's Choice Awards Poll - Chicago Tribune / Metromix.com
Roscoe Village's "Dining Hotspot" - Chicago Social Magazine
"Chicago's Best Waitstaff", Best of Chicago Reader's Poll – New City Magazine
"Chicago's Best Hangover Breakfast" – New City Magazine
"Best Place To Eat With Family" – New City Magazine
4-Time Winner, Jack Daniel's Chicago Chili Cook-Off 2001, 2004, 2007, 2009